Biosphere Kiosk
Laminated Biosphere Wall Map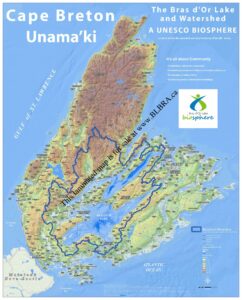 The Bras d'Or Lake Biosphere Association now has a laminated wall map for sale which shows the Biosphere boundary and the Great Trail Route along with topography and water depths. The map is 24" x 30" and perfect for displaying on a wall in your home, office or place of business!. Cost is $15 each.
Your purchase will support our 100% volunteer association and specifically our Trail Committee as we work to promote footpaths within the Biosphere.
Maps are available to purchase at our AGM or any Directors Meeting where community members are always welcome! Check out the meeting schedule here.
If you prefer we can mail the map to you however there is a minimum $25.00 postage fee for the Maritime area. Please fill out the form if you have any questions or wish us to mail a purchased item.
We appreciate your help in our fundraising efforts.